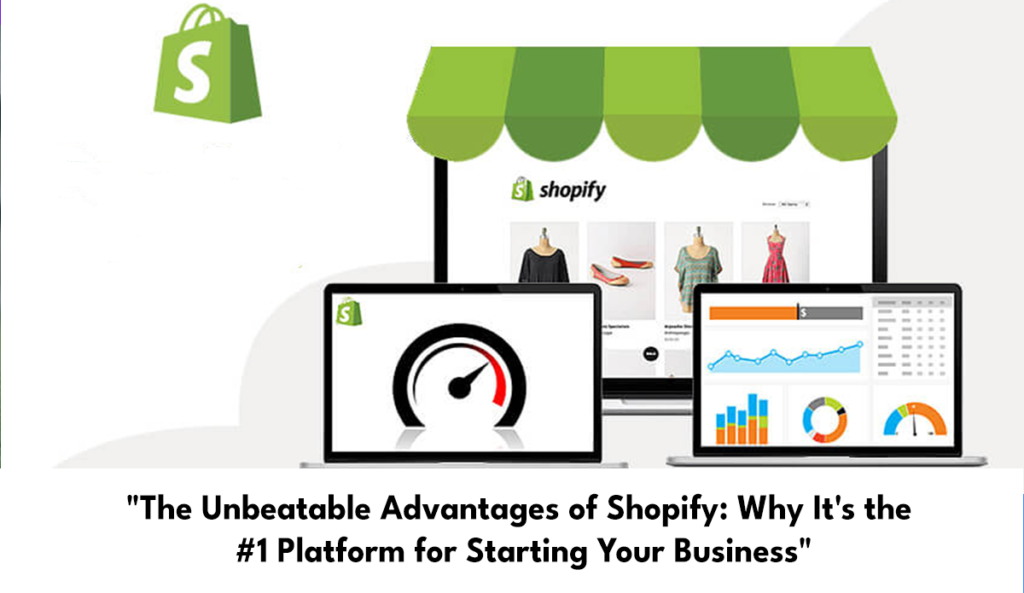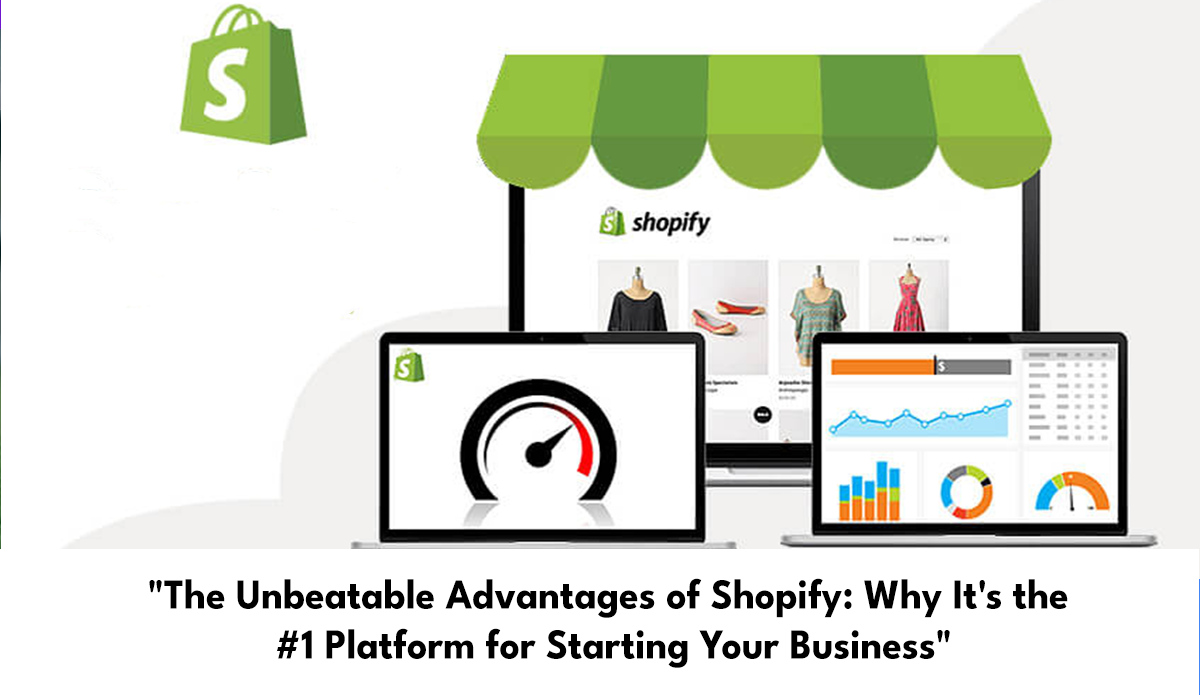 Shopify: Shopify is the perfect platform for creating your very own website to sell your products or services online, worldwide.
As a cloud-based hosting and e-commerce platform provider, Shopify is trusted by businesses of all sizes to set up and manage their online stores with ease.
With Shopify, you can enjoy an intuitive and user-friendly CMS that makes it easy to manage your website from anywhere. And, thanks to its subscription-based model, it's incredibly affordable to get started. In fact, you can run a complete online store for as low as $29 per month, making it the perfect choice for startups and small businesses on a budget.
Shopify has over 2 million active users, with more than 1.75 million merchants and over 2.29 million websites utilizing its platform. It's worth noting that not all of these users actively run their stores or sell products. Nonetheless, Shopify continues to support more than 600,000 businesses and 1.4 million full-time jobs across roughly 175 countries.
With Shopify, you can have your entire online store up and running in less than a week, giving you everything you need to start building your business and selling your products online.
So why wait? Sign up for Shopify today and discover the power of e-commerce made simple.
Table of Contents
What is Shopify?
Shopify is more than just a commerce platform; it's a comprehensive solution that allows you to effortlessly launch, scale, and manage your business. With millions of merchants on our platform, our expertise and leadership in the industry are unparalleled.
By leveraging the experiences and successes of our community, we're able to anticipate and create innovative features that not only power commerce today but also shape the industry for tomorrow. With Shopify, you have access to the tools and resources you need to build a successful business and achieve your goals.
Why Shopify?
Shopify is dedicated to empowering the entire e-commerce community, whether you're online, offline, or somewhere in between. With the largest and most diverse community of users, Shopify provides unparalleled support and resources to help you build and grow your business.
Shopify is the ultimate global platform for entrepreneurs to unlock their full potential. It enables business owners across the world to create, connect and innovate their businesses, providing them with the tools and building blocks needed to succeed in commerce. With a presence in over 175 countries, empower entrepreneurs to reach their full potential and achieve success on a global scale.
Shopify designed your products to be incredibly flexible and extensible, providing you with the freedom to fully express yourself and your brand. So, whether you're just starting out or looking to take your business to the next level, Shopify is here to empower your creative vision and help you succeed.
Shopify is the ultimate commerce platform, providing seamless integration right out of the box. By centralizing all business operations, Shopify streamlines commerce management and offers access to an extensive range of ecosystem integrations built using a shared technical framework. With Shopify, businesses gain access to the most comprehensive suite of commerce tools available on the market.
Shopify streamlines the complexities that often burden independent businesses. It understands that the world isn't always conducive to starting, scaling, and succeeding in the entrepreneurial landscape. Thus, the platform is designed to be easily navigated, providing maximum accessibility to growth tools for the success-driven entrepreneur.
Shopify is expertly crafted to grow with you. Regardless of your technical expertise, business size, complexity, or location, you'll always have access to the latest technology and features to expand your business. And as your business needs evolve and scale, Shopify will be there every step of the way, ensuring that you never outgrow the platform. With Shopify, you can rest assured that your business will always have the professional support and cutting-edge features it needs to succeed.
Shopify Plans
Shopify offers three distinct plans tailored to different business requirements. Here are all plans, you can purchase according to your needs: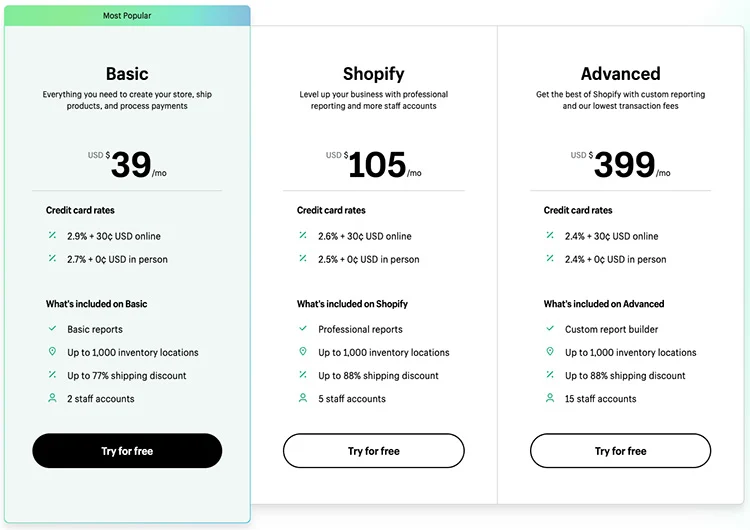 Basic Plan: If you are a newcomer in the online selling arena and setting up your own website or blog, the Shopify Basic plan is tailored to meet your needs. This plan includes everything you require to get started, such as Shopify store hosting and a customizable theme. The plan costs $29/month when billed monthly and $14.44/month when billed annually.
Shopify Plan: With the Shopify plan, you get everything included in the Basic plan plus additional features such as unlimited bandwidth, advanced SEO capabilities, and more themes for your store available in the Shopify theme store. The Shopify plan costs $79/month when billed monthly and $39.44/month when billed annually.
Advanced Plan: The Advanced Shopify plan is the ultimate package, offering everything included in the Shopify plan and more. Advanced analytics, 24/7 phone support, and unlimited marketing tools allow you to take your business to the next level. The plan costs $299/month when billed monthly and $147.78/month when billed annually.
Benefits of Shopify
Shopify offers a range of benefits that can help take your business to the next level. Here are just a few of the key advantages you can expect when using Shopify:
1. Security: With Shopify, you can rest assured that your customer's data is secure. Shopify uses SSL encryption to protect your customer's information and credit card details.
2. Personalization: With Shopify, you can personalize your online store to suit your brand and customers' needs. You can customize your store's design, product pages, and checkout process to provide a unique shopping experience.
3. Fast loading speed: Shopify's servers are optimized for speed, ensuring your store loads quickly and efficiently. This means your customers won't have to wait long to make a purchase.
4. Mobile commerce ready: With more and more customers shopping on mobile devices, it's essential to have a mobile-friendly online store. Shopify is mobile commerce ready, meaning your store will work seamlessly on any device.
5. Shopify Theme Store: Shopify offers a range of pre-designed themes that you can use to create a professional-looking store in minutes. Choose from a range of customizable themes to suit your brand and style.
6. Shopify App Store: Shopify's app store offers a range of apps that can help you manage and grow your store. From inventory management to marketing, there's an app for everything.
7. User-friendly interface: Shopify's interface is easy to use, even if you have no coding experience. You can manage your store, add products, and process orders with ease.
8. Quick customer service: Shopify offers 24/7 customer support, ensuring you get the help you need when you need it. You can contact Shopify via live chat, email, or phone.
9. No coding skills required: With Shopify, you don't need any coding skills to create a professional-looking online store. You can choose from a range of pre-designed themes and customize them to suit your brand and style.
Conclusion
In conclusion, Shopify is an excellent choice for businesses looking to sell their products or services online. Its intuitive CMS, affordable subscription-based model and quick setup time make it an ideal platform for startups and small businesses on a budget.
With Shopify, you can easily manage your online store from anywhere in the world, giving you the flexibility to focus on growing your business. Don't hesitate any longer, sign up for Shopify today, and experience the power of e-commerce made simple. As a professional, I highly recommend it.
(Disclaimer: GFI and GFI Team are updating knowledgeable content in this blog from official sources and are not aiming to promote any particular source or business through this and also, do not hold any copyrighting rights under our names for the content)