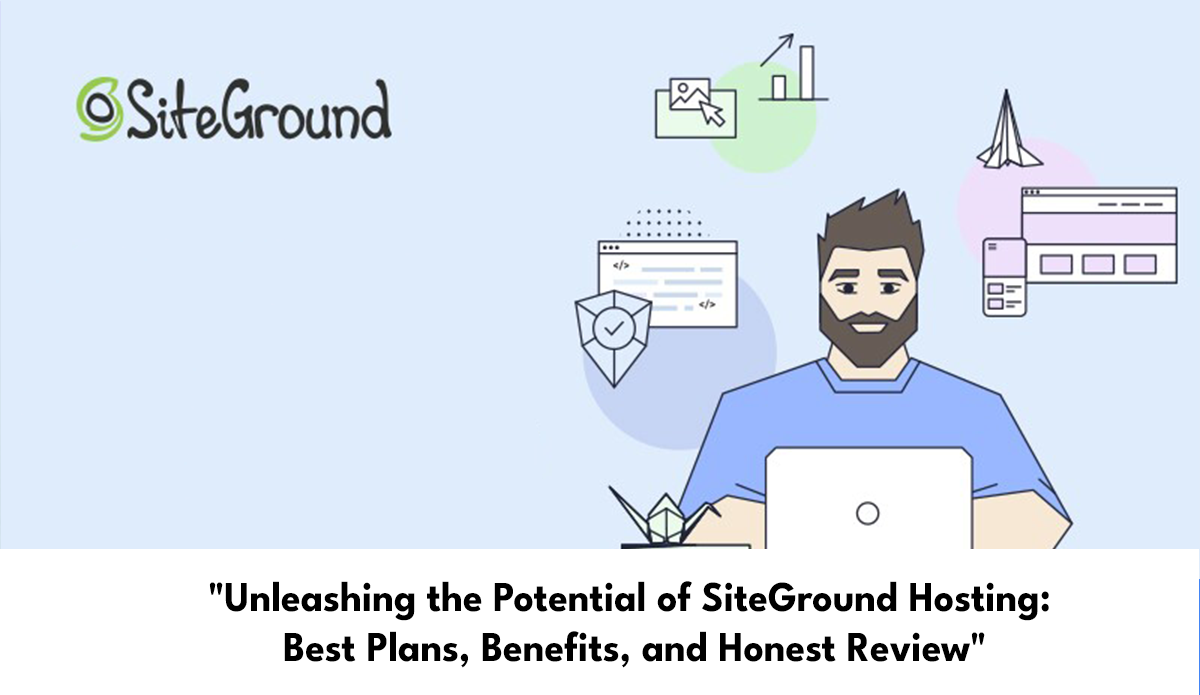 SiteGround: SiteGround is a well-known web hosting provider that offers shared and cloud hosting plans to cater to the needs of individuals and small businesses.
It's a perfect choice for those who want to launch their websites without breaking the bank. The company offers fair pricing and adequate resources to ensure that your website runs smoothly.
What makes SiteGround different from other web hosting providers is its dedication to speed, renewable energy match, and consistently positive customer feedback.
The company's servers are optimized for speed, ensuring that your website loads quickly for your visitors. SiteGround also matches 100% of the energy consumed by their servers with renewable energy, making it an eco-friendly option.
In this article, you'll discover more about SiteGround's features, benefits, and how it can help you launch your website with ease.
Table of Contents
What is Siteground Web Host?
SiteGround has been providing web hosting services for the past 15 years and has expanded its operations across the globe, including the United States, the United Kingdom, Spain, and Australia. Apart from basic shared hosting, SiteGround also offers cloud and reseller hosting, which comes with higher disk space limits, bandwidth, and processing power.
To ensure that its customers have a clear understanding of what they will receive, SiteGround quantifies the resources included in each hosting plan. For instance, the lowest web hosting plan can support approximately 10,000 monthly visitors. If your traffic grows beyond this, you may need to upgrade to a higher-tier plan.
Overall, SiteGround's commitment to providing reliable hosting services, coupled with its transparent approach, makes it a fantastic choice for businesses of all sizes.
How Does SiteGround Web Host Works?
Here are points of how SiteGround web host works:
SiteGround hosts your website's files on its servers and delivers them to anyone accessing your site on the internet, making it visible to a wide audience.
A website is crucial for any business looking to increase its customer base or create brand awareness. It's also a great platform for individuals to showcase their achievements, photos, and events to a large group of people.
SiteGround offers managed WordPress hosting as a package, which is slightly more expensive than its shared hosting service. This option is ideal for new users who want an easy-to-use website with regular updates and maintenance without worrying about security issues.
SiteGround provides free domains with all shared, WordPress, and WooCommerce hosting packages. If you already have a domain, you can easily connect it to SiteGround, and the web host offers a WordPress installer that simplifies the migration process.
SiteGround Plans
SiteGround offers a range of hosting plans to suit the needs of individuals and businesses of all sizes. Please review the below plans and buy according to your needs.
SiteGround Web Host Features
Here is SiteGround Web Host Features:
Upload and manage content
Easily manage your website files with Siteground's intuitive file manager, FTP manager, and staging tool, all designed exclusively for WordPress. Upload and organize your files hassle-free and streamline your website management with user-friendly tools.
Create and manage business emails
Siteground offers a seamless solution to create professional business emails for you and your employees. Take advantage of easy-to-use email tools such as forwarding, filtering, and autoresponders to automate your email flow and improve your productivity. You can enjoy an integrated webmail experience or set up your emails effortlessly on your devices. With Siteground, managing your business emails has never been easier.
Manage security and performance
Siteground's plans come packed with powerful security and speed optimization tools, including SSL, CDN, IP blocker, caching, managed auto-updates, and more. With these tools, you can rest assured that your websites are secure and loading lightning-fast, providing a seamless browsing experience for your visitors.
While SiteGround doesn't offer VPS or dedicated hosting, it does provide an excellent cloud hosting service. In case you're outgrowing your shared hosting plan, SiteGround makes it easy to upgrade to cloud hosting directly, starting at $100 per month. The lowest-priced plan includes four CPU cores, 8GB of RAM, and 40GB of storage. You can further configure your plan to fit your specific needs, paying only for the processing power, RAM, and storage you actually need.
SiteGround goes above and beyond to provide exceptional value to its customers. With every shared hosting package, you receive not only a free domain name for the first year, but also a free SSL certificate, a free CDN, and site statistics. Additionally, SiteGround offers multiple caching options (static and dynamic) to ensure your website loads lightning-fast. And, as if that wasn't enough, you'll also get a free email account and email migrator. At SiteGround, you can trust that you'll receive all these added benefits at no extra cost.
SiteGround simplifies every aspect of web hosting, from ordering service to app installation. Selecting a plan is effortless and self-explanatory, allowing you to choose your term length before checkout. You can also explore the marketplace for additional features, like premium CDN, dedicated IP, and domain privacy, to enhance your website's performance and security.
SiteGround Pros and Cons
Here are SiteGround's Pros and Cons:
Pros:
– All plans use SSD storage, which means faster loading times for your website.
– SiteGround offers a free CDN (Content Delivery Network) which further improves page speed and performance.
– SiteGround provides both static and dynamic caching, which helps to optimize your website's performance.
– Free SSL certificate is included with all plans, ensuring secure browsing for your website visitors.
– Free email (webmail) is also included, making it easier to communicate with your audience.
– SiteGround offers managed hosting, which means they take care of the technical aspects of hosting, allowing you to focus on your business.
– SiteGround uses Google Cloud data centers, which means your website is hosted on reliable and secure infrastructure.
Cons:
– SiteGround can be a pricier option compared to some of its competitors.
– Priority support is only available for high-level plans, which may not be suitable for everyone.
– SiteGround does not offer phone support, which can be inconvenient for some users.
– SiteGround has limited storage and site visitor allowances, which may not be enough for larger websites.
– SiteGround does not offer physical scaling options, which may limit your ability to scale your website as your business grows.
SiteGround Customer Service and Support
SiteGround is well-regarded for its exceptional customer service and support. With a team of knowledgeable and professional support staff, you can expect quick and efficient assistance through live chat or email/ticket support. While phone support is not available, you can easily access helpful information about your support agent, including their name, number of customers served, and personal rating.
For those seeking priority support, SiteGround offers the GoGeek shared hosting plan, which includes access to the most experienced support agents. With priority support, you'll get faster assistance and high-quality help from a shorter queue. So, if you want the best support experience possible, upgrading to GoGeek is definitely worth considering.
Conclusion
In conclusion, SiteGround is a reliable and affordable web hosting provider that offers shared and cloud hosting plans suitable for individuals and small businesses. With its focus on speed and sustainability, SiteGround sets itself apart from other web hosting providers.
The company's dedication to renewable energy and consistently positive customer feedback makes it an excellent choice for those who want to launch their websites while being environmentally conscious. With SiteGround, you can expect fair pricing and adequate resources to ensure that your website runs smoothly.
(Disclaimer: GFI and GFI Team are updating knowledgeable content in this blog from official sources and are not aiming to promote any particular source or business through this and also, do not hold any copyrighting rights under our names for the content)