Hostinger: Today when everyone is trying to capture the market through online modes, only a few of us are getting that fame.
But why? Because we're not using these awesome web hosting services by Hostinger.
Hostinger
Let's begin!
The Hostinger- Web Hosting
Introduction
With a vibrant and innovative approach, Hostinger brings joy to the hosting experience. It is the world's best Hosting Platform you'll ever know. No, we are not bragging about them, it's true!
Its user-friendly interface, lightning-fast speeds, and unbeatable affordability make them the perfect companion for your online journey. And here's the best part – Hostinger doesn't just cater to the tech-savvy gurus. It seems to be on a mission to empower every digital dreamer out there. Whether you're a blogger, e-commerce entrepreneur, or small business owner, Hostinger has tailored solutions to suit your needs. Unleash your online potential and embark on an extraordinary hosting adventure with Hostinger!
Why is Hostinger so Amazing?
The speed, prices, reliability, etc. are some of the many cool features here, but, Hostinger is special because it treats its users with a lot of care. It provides 24X7 Support services through e-mail as well as through chat so that our work can continue to slay!
And one more mesmerizing thing is- we will have 100% backup from the Hostinger. Isn't it unreal? Even our desktop's recycle bin ditches us sometimes.
Pocket Friendly
Now, let's talk about affordability. We all know that web hosting can be a daunting investment, especially for those just starting their online journey. But fear not, dear friend! Hostinger comes in like a superhero, offering hosting plans at prices that won't drain your budget. They believe that everyone deserves a chance to make a splash online, regardless of their pocket size.
Unbelievable? Check them out here –
Awesome Plans to Start with
The Hostinger is giving us a suitable solution for our different needs so we don't have to compromise our requirements.
Check all cool web hosting plans in detail –
Single Web Hosting- Ideal solution for beginners
In this plan, the initiating cost is less than a burger's cost! You only need to pay Rs. 69/- a month. Wow! And it will be Rs. 159/- per month after renewal and you just need to skip a pizza to pay for this.
Premium Web Hosting- Perfect package for personal websites
Here is proof that every premium thing is not expensive! In this plan, the starting cost is Rs. 149/- a month + 3 MONTHS FREE! Isn't dreamy! And it will be Rs. 249/- per month after renewal.
Business Web Hosting– Optimized for small and medium businesses
Here is the minimal investment your business is asking for! Register with Rs. 269/- a month + 3 months FREE and on renewal, it will be Rs. 499/- per month. I bet your mobile recharge is exceeding this website recharge!
To keep up your research of WordPress, visit here:
Plans for Best WordPress Hosting: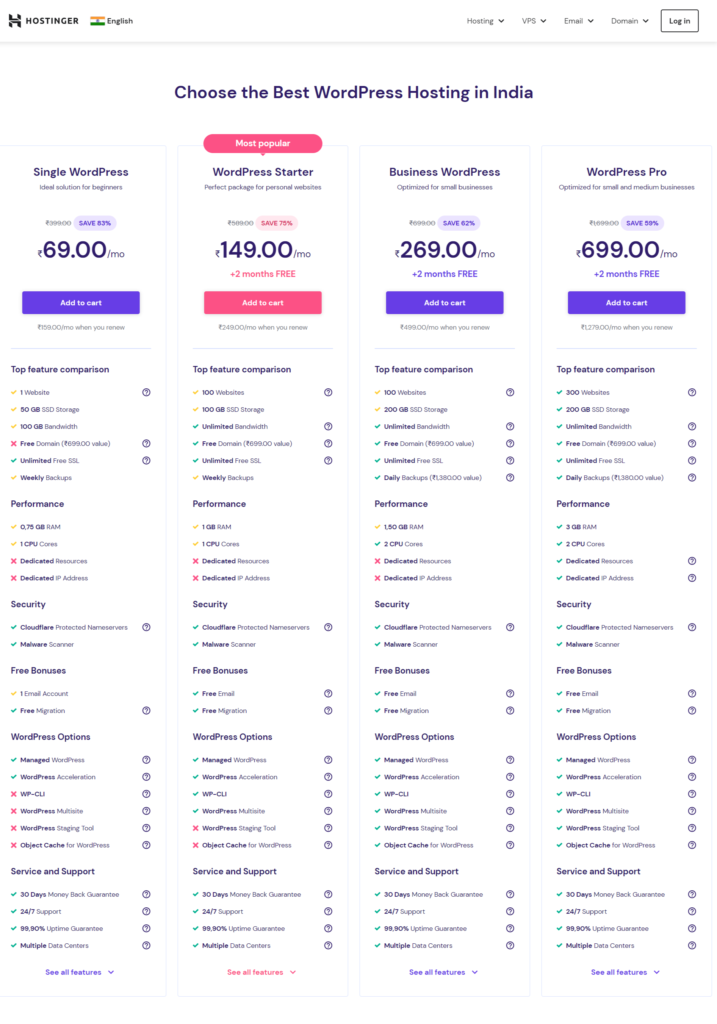 Single WordPress- Ideal solution for beginners
What will you do if you have a spare 69 bucks in your pocket? Can do nothing much! But you can begin with your WordPress Plan by Hostinger at Rs. 69/- a month. After renewal, it would be Rs. 159/- per month. I wonder… is this platform not facing inflation!?
WordPress Starter- Perfect package for personal websites
Ever heard your parents telling about how cheap was everything in their youth? Hostinger saved ours too! Get this awesome plan for your personal website only @Rs. 149/- a month + 3 MONTHS FREE. And after renewal, it would be Rs. 249 per month.
Business WordPress- Optimized for small businesses
Your small business deserves a lot of your attention but a very small investment for this WordPress Plan. Start this up with just Rs. 269/- a month + 3 MONTHS FREE. Also when you'll renew, it's not costly again, it would be just Rs. 499/- per month.
WordPress Pro- Optimized for small and medium businesses
Keep your business in line with the digital world scenarios by just paying Rs. 699/- a month + 3 MONTHS FREE. Whenever you'll renew, you'll be charged Rs. 1,279/- per month.
Apart from these, there are so many business-friendly plans at the Hostinger which you can check out at –
Struggle Free Website Builder
Build your dream with your own hands! Don't worry, this doesn't require IT Professional, just drag and drop your elements and tad a (…) your Website is ready.
Have Large Scale Business?
Looking for Large Scale Hosting Solutions? Look no further! Check out Hostinger's Cloud Hosting, VPS Hosting, Hosting for Professionals, Business Emails, Domain Name, and many other marvelous services.
Benefits
And… when it comes to benefits, it's a long-long list. We précised it for you anyhow to let you know the luxury you're getting with Hostinger.
It is the most reliable and Famous Web Hosting service provider known for its pocket-friendly services and speedy loading. This is a pure hassle-free and convenient solution available for Web-hosting. And don't worry about your non-tech qualities; it has the easiest Dashboard ever.
Just for you!
Oh! The best news is here… Get 7% off on all of Hostinger Services by using GFI's promo code GFI07 and get started with your flying dreams with WordPress from this link https://www.hostg.xyz/SHBBz!!
(Disclaimer: GFI and GFI Team are updating knowledgeable content in this blog from official sources and are not aiming to promote any particular source or business through this and also, do not hold any copyrighting rights under our names for the content)